Greater Manchester Combined Authority
A0 framed print, produced for the commission
GM Covid Commission
2020
In March 2020, a call was put out by Greater Manchester Combined Authority's Culture Team for artists to apply for grants to create a piece of work in response to the COVID-19 global pandemic.
I was one of the 60 artists in Greater Manchester selected to create a piece of work responding to the events unfolding around us.
A wide range of disciplines are represented amongst the artists selected, including illustration, design, music, dance, theatre and more. You can view the full range of submissions on the
GM COVID Commissions website
.
I chose to design a poster print, which contains three calls to action, as well as visual representations of several themes of connection and humanity.
A digital mockup of the print
A4 risograph print on Arancio 170gsm card stock
In addition to producing two large-format A0 prints, with the hope that one can be displayed at a physical exhibition in the future, I also worked with MARC The Printers to produce a
limited run of risograph prints, in both A4 and A3 size
. These are being sold as a fundraiser, with the proceeds going to MARC.
MARC are threatened by COVID-19, as there has been a drastic reduction in demand for printed material. As a community printer, they have helped myself and countless other artists in Greater Manchester and the surrounding area for decades. Not only this, but they frequently work with other community organisations and campaigning groups, offering support to help groups and individuals produce environmentally-friendly print materials and running workshops to introduce people to risograph printing.
︎ View risograph prints in the shop.
Artist Statement

Three important actions we can take during the crisis and beyond form a call-to-action in my piece. I chose to include the overtly political 'organise', as I feel a depoliticisation of the narrative in times of crisis is even more dangerous than times of non-crisis; so many more lives are at stake as a result of political decision-making.

Thinking about my initial ideas for this piece, I wanted to show themes of connection, and chose to develop the poster around a striking central graphic, which I have used to represent both the Earth, and also a multi-core communications cable, viewed in cross-section. The smaller circles can be interpreted as the communication between people around the world. The waves inside the circle represent sound waves, people talking to one another, physical wires for telephone and internet connection as well as radio waves for radio, television and wifi etc. The lines also help to give a bit of movement to the circle, which is representative of the rotation of the Earth.

At the bottom of the poster I created a shape which suggests lift, as it's the power of people to lift each other up that will get us through the crisis. It also visually serves to embody a pair of hands, open but clasped at the wrists, pushing up. Visually it's quite similar to human hips, it could almost be a figure bearing the load on their back, head bent. The final visual signifier is the hourglass; the crisis will take some time to pass, and we have to be prepared for life to be different for some time; indeed we have to be prepared to for it to be irrevocably changed.

A3 risograph print on Arancio 170gsm card stock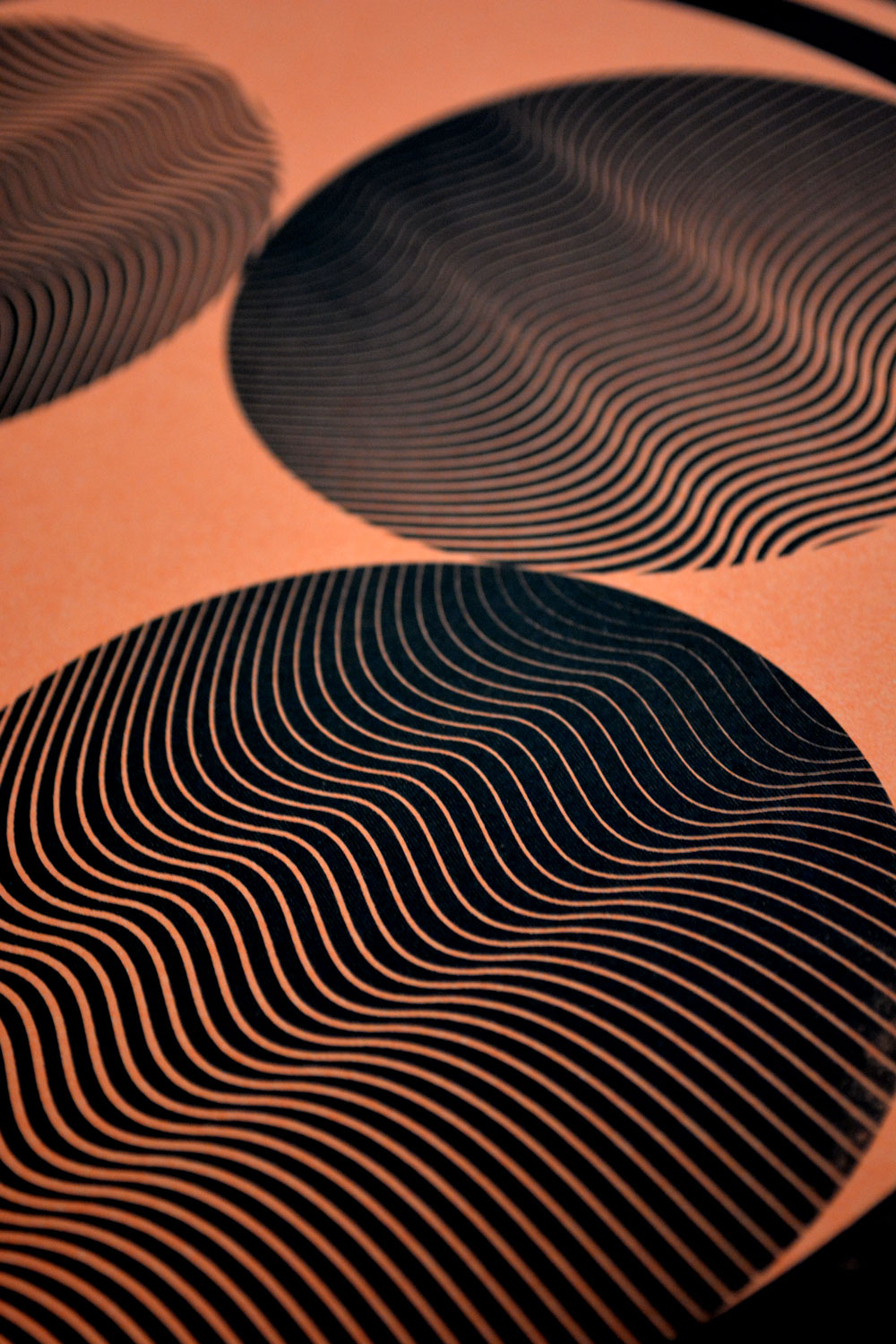 A3 risograph print on Arancio 170gsm card stock